Why You Should Automate Your Sales Commissions?
When a sales rep closes a deal and earns a commission from his sale, the payment is directed to his payroll. Sales commissions are the primary form of sales compensation, and are part of the direct costs that occur when the product is sold, while the salaries that sales reps earn are in the indirect costs of SG&A. Such expenses can be categorized as part of the cost of goods sold in the accounting software in one sense or it can also be allocated to the cost of employee salary.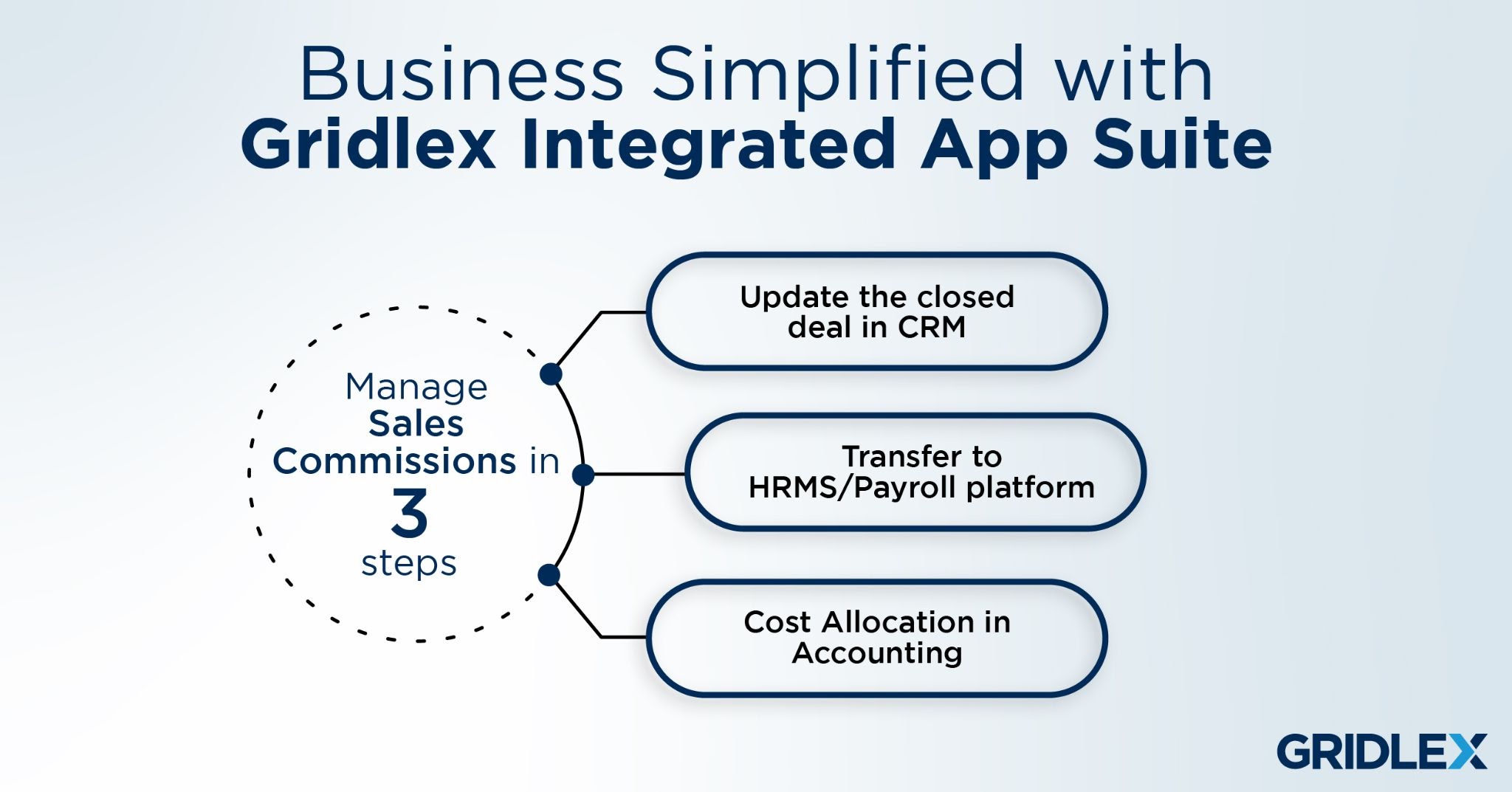 The Benefits of this Use Case
It is easy to calculate sales commission based on closed deals and transfer them to Payroll and then to Aaccounting.Sales reps are usually employees of the company. Payroll is used by many businesses to issue paychecks. In addition to their salaries, sales commission payments need to be processed and sent to employees. Hence, there is no need for manual entries for the documentation of sales commission if they are already streamlined with the process through integration of HRMS+Payroll and Accounting. Integration reduces the time it takes to process orders by a significant amount. Calculating sales commissions in Excel takes time, and administering incentive programmes is complicated especially when there are many compensation systems. You can estimate new sales commission structures quickly and correctly by reducing time-consuming manual activities and streamlining communication across departments.Other Benefits include:
Helps you manage expenses better

Eliminates redundant copying of papers and details & Saves your time

Better Reporting of expenses

Paying sales reps on time improves work morale

Cultivates a proactive and motivated workforce
Applications and Systems that need to be integrated
Payroll + HRMS + Accounting needs to be integrated in this instance. Gridlex provides employees, sales, finance and HR departments one interface to manage and view commissions, compensation plans and forecasts. With this integration, Accounting teams and sales teams can access their own crucial information in the same platform at any time, rather than emailing spreadsheets or commission statements.
How Gridlex's Integrated App Suite Helps
Gridlex's App Suite gives you extensive reports about many accounting scenarios such as which sales rep brings in the most money and how much do you pay in commissions to them. Gridlex App suite is a comprehensive, end-to-end solution that allows you to manage your Accounting, Payroll operations, and HRMS all in one interface. Payroll expenses, including earnings, taxes, deductions, and reimbursements, are automatically updated to the appropriate journals each pay period, eliminating the need for human accounting.